Paul came up the basement stairs with a concerned look on his face. "Did you notice that crack in the basement wall?" he asked his wife.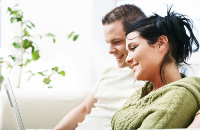 Patty Colson didn't seem to be concerned, barely looking up from the laptop computer that resided on the small desk at the edge of the kitchen. "Are you talking about the one in the wall behind the water heater?" she asked. "That's been there for at least a year. I'm surprised you're just noticing it now."
Paul didn't seem relieved. "Sure, I knew it was there," he continued, "but it seems to be getting bigger at the top. I mean, the crack is getting wider."
Patty still seemed unperturbed. "We asked Bob to look at it last spring, remember? He's an experienced builder and he said that hairline cracks are normal in poured concrete walls. I wouldn't worry about it," she concluded.
Hairline Cracks
Patty is right about hairline cracks in concrete. Oftentimes they do occur when concrete cures, changing from a liquid to a solid. This type of crack usually doesn't extend all the way through the wall, and it's too narrow to admit a credit card.
It's tempting to ignore cracks in your foundation, especially if they've been there for a while and you haven't had problems with water coming through them. But Paul is also right to be concerned about this particular crack, because he noticed that the top of the crack is growing larger. Even though the difference in the width of the crack may be very slight, it has signaled a change. That change indicates wall movement.
If you have a question about cracks in your foundation, it's smart to call in the crack detectives. Your local foundation repair expert can come to your home and inspect the crack. This expert will also evaluate the rest of the area; there may be more than one crack. Many times there are cracks on the opposing wall.
What The Causes Says About A Crack
If a crack is caused by a structural issue –like expansive soils, hydrostatic pressure, frost heaving or soil settlement, for example—it's fairly certain that the crack will grow and become more severe over time. When this happens, water, insect pests, and hazardous radon gas have a much greater opportunity to enter the basement and cause problems.
•
Standing water makes the basement unusable and unsafe, especially if the basement contains electrical equipment like water pumps, water heaters, and washing machines. Dampness alone causes problems by creating an environment where mold can flourish, releasing spores into the air that can cause severe respiratory ailments to home occupants.
•
Insects and mice that enter a basement or crawl space through a cracked foundation can cause building damage and move upstairs into the living space.
•
Radon gas is radioactive and can cause cancer in people who have high exposure levels.
Permanent Repair
There is good news about "problem" cracks in foundation walls. They can almost always be permanently repaired. The key here is to call in a contractor that specializes in this type of work.
When choosing an expert, choose one that doesn't subject homeowners to temporary patching techniques that allow cracking to continue. Your contractor should be out for your best interest, and shouldn't recommend expensive and extensive repair strategies that call for demolishing and rebuilding damaged foundations.
Instead, they should rely on steel piers, wall anchors and braces to overcome soil stability problems and to make the foundation strong and stable. These well-engineered, state-of-the-art repair components have a proven track record in residential and commercial applications, so you can be sure they will work on your house.
If there are cracks in your foundation walls or slab floors, don't ignore them or rely on so-called "experts" who don't really have expertise in foundation repairs.
Call in the foundation crack detectives –the folks at Frank's Basement Systems. They are qualified and experienced in the foundation industry. Contact them today for a free estimate for
structural repair in Rochester, NY
.