Settlement and sinking.
Bowing and cracking.
Wall failure.
These are just a few phrases that give homeowners anxiety. And rightfully so.
When addressed promptly, foundation problems are not the catastrophe they seem to be. Frank's Basement Systems has over 35 years of experience correcting a variety of foundation problems. Countless homes in Western New York have been spared from demolition thanks to the work performed by Frank's Basement Systems. But how do you fix a foundation?
1. PowerBraces
PowerBraces are a patented steel I-beam brace system that attach to the floor joists and to the basement floor. They can be tightened over time to return the wall to its original position.

2. CarbonArmor
CarbonArmor bands are strips of carbon fiber that are 10 times stronger than steel. They are attached directly to the problem wall with epoxy and can be covered up with a coat of paint. These thin bands prevent any further inward movement.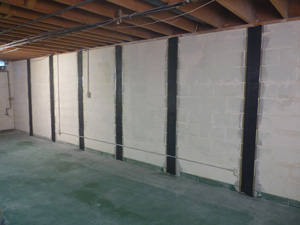 3. SmartJacks
SmartJacks are galvanized permanent jacks used to lift crawl spaces into the correct position. They address the problem soil under the crawl space and can be tightened over time.

4. Helical Piers
Helical pier installation is a more invasive foundation solution than the previous listed. To address a sinking home, helical piers are drilled down into stable soil and attached to the footer of the foundation. The weight of the home is transferred to the pier in the stable soil and stops the sinking.
5. Wall Replacement
A total wall replacement is a last resort for a failed wall. Jack posts are placed along the failing wall to support the home while the wall is taken down to the footer and rebuilt.
Our team of highly trained design specialists and foreman combined with our line of patented products makes Frank's Basement System your best choice for any and all structural concerns you may have.