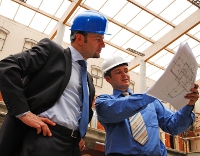 Tonawanda, NY – Frank's Basement Systems, an already multifaceted contractor, is expanding its specialties to include foundation repair services, amplifying its untouchable 25 years of experience in basement waterproofing and crawl space repair.

The company is embarking in this expansion to broaden their capabilities and provide complementary and comprehensive support to homeowners—a "get it all in one place" approach.

In fact, it isn't uncommon for foundation repairs to join alongside waterproofing and encapsulation services, says owner Frank J. DiMaria.

"Sometimes a moisture problem is actually a symptom of a more serious foundation problem," explains DiMaria. "If we encounter foundation settlement or a foundation wall that's being pushed in by expansive soil, it's important to stabilize the foundation while also solving the moisture problem."

Frank's Basement Systems' high quality pier and anchor systems provide the assurance that even the most severely damaged foundations can be repaired quickly and affordably.

The team at Frank's Basement Systems is fully trained and certified to conduct comprehensive foundation inspections; in addition, they utilize patented, industry-leading products to make permanent foundation repairs.

Training, engineering support and repair systems are supplied by Foundation SupportWorks, a contractor network across the United States and Canada dedicated to helping residential and commercial property owners repair their failing foundations.

"We're very glad to have the expertise and superior products that Foundation SupportWorks supplies," says DiMaria. "It's good to know that we're in a position to handle basement and foundation issues from A to Z, helping home and business owners to improve the value, safety, energy efficiency and usability of their buildings."

Frank's Basement Systems is a highly reputable basement waterproofing and crawl space encapsulation expert with 25 years of experience. Frank's Basement Systems has acquired the expertise, experience and equipment to handle even the most challenging moisture problems that pollute basements and crawl spaces. Contact them today for a free estimate for foundation repair in Rochester, NY and all surrounding areas.